In March, U.S. Senators Tim Kaine (D-VA) and Mark Warner (D-VA) introduced the Shenandoah Mountain Act of 2022, proposed legislation that would designate approximately 92,000 acres of the George Washington National Forest as the Shenandoah Mountain National Scenic Area with embedded wilderness areas.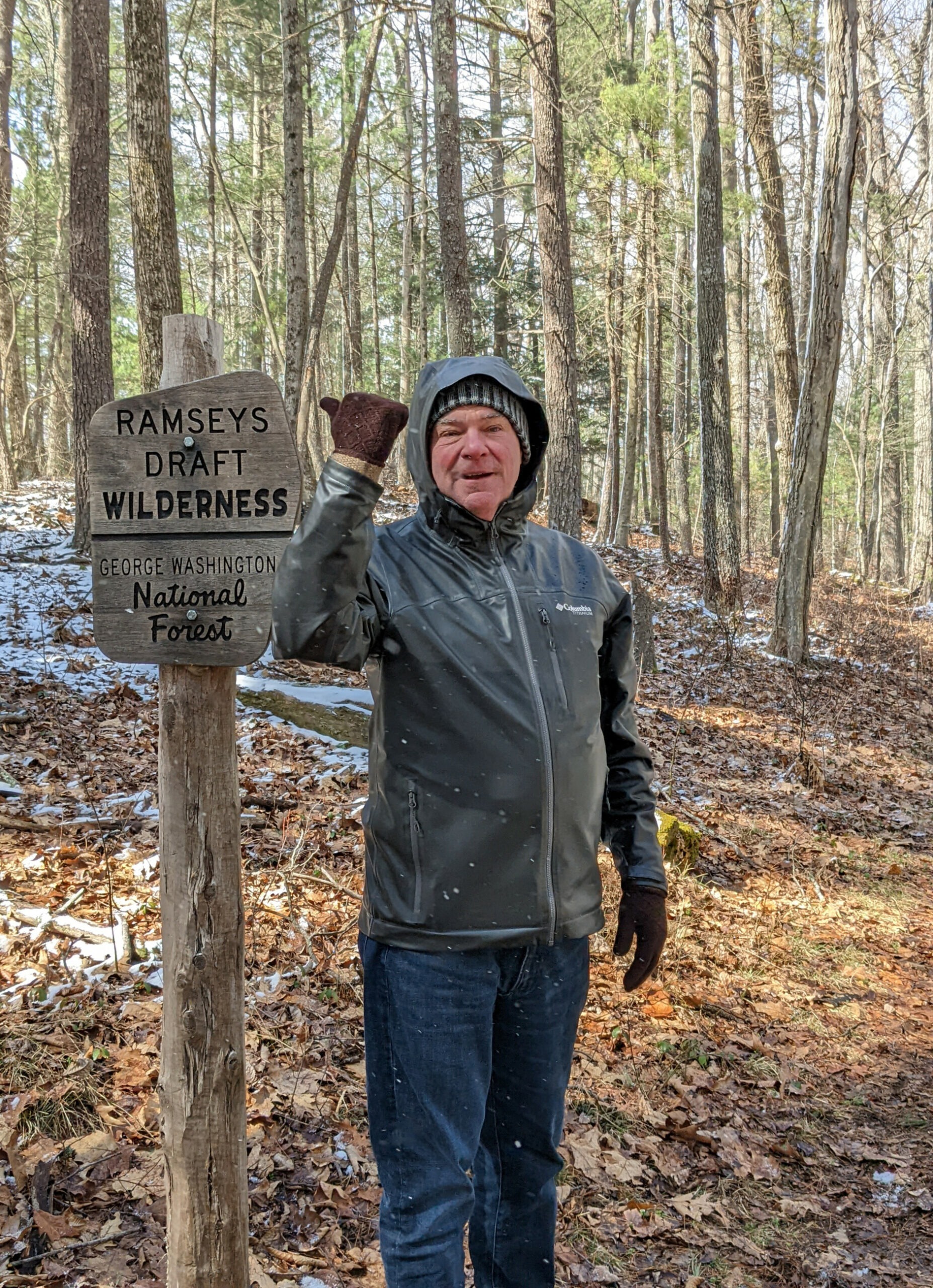 U.S. Senator Tim Kaine in Ramseys Draft Wilderness Area. (photo by Nancy Sorrells)
Four days later, on a Saturday afternoon, Senator Kaine took a snowy walk along the Shenandoah Mountain trail to support his bill and learn more about the place he wanted to protect.
Kaine is no stranger to Virginia's outdoors, but this area is particularly dear to him. It was on a November day many years ago that Kaine and his wife Anne trod the very same path while on their honeymoon.
Much of Shenandoah Mountain is in the George Washington National Forest where there is something for everyone: hiking, hunting, fishing, mountain biking, camping, horseback riding, and other outdoor recreational opportunities. If passed, the new area would protect the headwaters of the James and Shenandoah Rivers and include 150 miles of trails and 10 peaks above 4,000 feet.
National Scenic Areas, such as the one in this proposed legislation, are public lands established by Congress to add further protections to a place because of its scenic, historic, recreational, and natural resources, while continuing to allow compatible uses such as outdoor recreation. The scenic area designation creates a special area within the larger national forest. Inside that proposed new area, the forests, vistas, and drinking water supplies would be preserved, while logging and industrial development such as gas drilling and pipelines would be prohibited.
In the Shenandoah Mountain proposal, four embedded wilderness areas—Skidmore Fork (Rockingham), Little River (Augusta), Lynn Hollow (Highland), and Bald Ridge Addition (as part of the current Ramseys Draft) would be created. All private land is excluded from the proposal and all current forest roads will remain open (see this map for details).
"National Scenic Areas strike a great balance between recreation and preservation," Friends of Shenandoah Mountain co-chair Lynn Cameron explained. "This unique designation ensures that hunters, hikers, anglers, mountain bikers, and many others will be able to continue to enjoy the exceptional landscapes for generations to come."
Lynn and her colleagues have worked tirelessly and collaboratively for 18 years to get diverse and bipartisan support for the bill now before the Senate. They have picked up hearty endorsements from the counties of Augusta and Rockingham and the cities of Staunton and Harrisonburg. They also have garnered support from over 400 organizations, businesses, industries, faith groups, conservationists, and individuals.
In a press conference announcing the new legislation, Senator Kaine expressed great support for the bill. "These challenging two years have underscored that getting out into nature is critical to our health and well-being. The establishment of this National Scenic Area will help us share the gifts of Shenandoah Mountain and the George Washington National Forest with visitors from near and far, while also boosting our local economies, protecting drinking water sources, and preserving the wildlife that make this area so special," he said.