The Alliance's Shenandoah County Coordinator Kim Woodwell noticed she and Tyler Hinkle were at all the same meetings. She decided it was time to get to know him better and thought you might like to too. Here's their Q & A.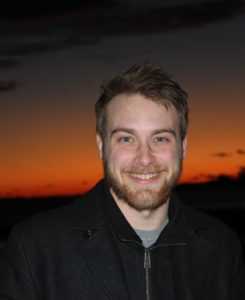 Q
Where did you grow up? Go to school? You're a local, right?
I was born in Woodstock and grew up first in New Market, but then we moved out to Moore's Store when my brother was born in 2002. I went to all the local schools from kindergarten at Ashbee Lee through 12th grade at Stonewall Jackson. I also attended Lord Fairfax Community College while in high school and received my Associates in Liberal Arts before graduating from high school.
Q
What is one of your favorite memories Shenandoah County?
Going to the family reunions my great grandparents used to put on and being able to be around so many family members and friends that cared about each other.
Q
What is the career you dreamed of having as a kid?
Growing up I wanted to be a geologist, then an astrophysicist, and until two years ago I wanted to be a lawyer. I find I can now incorporate my interests in geology and law into my planning work through things like GIS mapping.
Q
Who has been a role model in your life?
My parents, grandparents, and great grandparents. My grandparents and parents all taught me the values I have today and I have always looked to them for guidance. My parents were younger than I am now when I was born and I have always admired them for their dedication and ability to do more than anyone would ask of anyone and do so successfully. I would consider myself lucky to be as good of a leader as my dad, and as strong and brave as my mom one day.
Q
What might someone be surprised to know about you?
I can speak Spanish almost fluently and I can speak basic Russian.
Q
When you are not working, how do you like to spend your time?
I'm always working in some way, but if I ever take time off, I love to go biking, hiking, foraging for wild edible plants, writing, reading, and just thinking.
Q
So, you have held a number of positions in the towns and the county, even as a high school student? How did you get started?
Everything started at the historic courthouse in Woodstock. It was my junior year at Stonewall Jackson High and I heard about an opportunity to help out at the courthouse from my English teacher, Mr. Zaben. Jenna French, Shenandoah County's current Director of Tourism and Business Development hired me on as an intern back all those years ago.
At the same time, I was taking an ethics course, and it was really this great confluence of ideas and place as I read writings from theorists for my coursework while working and learning about Woodstock's history. I even recall noticing how few young people were engaging with local history, so I started a history club at my high school that was involved in the Corhaven Graveyard restoration in Quicksburg.
After the courthouse internship, I held a series of internships, one with the former Shenandoah County Administrator Mary Beth Price learning more about county administration and my home county of Shenandoah, and one with Delegate Tony Wilt in Harrisonburg. After a short internship with a law firm in Northern Virginia, I went on to work as an intern for Charlottesville's Economic Development Authority, then again with Delegate Wilt for the 2018 session in Richmond, and that following summer, I interned for the Towns of Mount Jackson and Broadway, while researching industrial decline in Detroit and Flint, Michigan and the Latinx population in the Valley.
Q
Becoming a county planner as your first job out of college is pretty impressive. Do you have any advice for other graduates or even high school students?
Don't ever let someone tell you what you can't do, and if they do prove them wrong. I have had many people talk down to me or belittle me and I have always sought to prove them wrong.
Q
Is there someone who has influenced your decision to get involved in this work?
I was always interested in helping the community growing up. My great grandfather Lenny Campbell and my dad Joe Hinkle always helped with local churches, sports teams, and a lot of youth related events. I was taught that because we had a little more than others that we should help those who didn't have as much, even if we didn't have enough time or anything to give.
Q
What is the one thing you wish Shenandoah County residents knew about your job?
That the job exists! So many people (including myself growing up) have no clue what planning is and how much it affects their lives.
Q
So what exactly is it that do you do? What are the duties/responsibility of your job?
I provide the community any information they may be seeking, help facilitate discussions that lead to mutual understandings, and look for ways to help people in the county.
Q
What kind of problems do you deal with?
A variety. From personal disputes to more large-scale decision making and ensuring that the most inclusive approaches are used.
Q
What kinds of decisions do you make?
Decision making in my position is collaborative. I really don't make many decisions on my own.
Q
What about this type of work interests you?
Being able to help individuals see their dreams and visions be realized.
Q
What is one thing you're most excited to be working on in 2020?
The county will be working to update its comprehensive plan. As part of this update, we are looking at promoting meetings in all the different communities within the county. Did you know there are more than 100 different villages and hamlets in Shenandoah County? I love talking to people and hearing their stories and I can't wait to see what stories and forgotten histories come out of this process.
Also, I look forward to completing my Masters in Urban and Environmental Planning in May, with a focus on Rurbanism, and being able to bring that additional expertise to my position here.
Q
Since becoming county planner, what is the one thing that has surprised you?
How much work past county planners have done. I think Shenandoah County is way ahead of the game compared with other surrounding localities.
Q
What part of this job do you personally find most satisfying? Most challenging? Anything not what you expected?
I really enjoy talking to people. After working as a researcher and on my thesis for two years I really grew tired of isolating myself in research and not having occasions to interact with people. A challenge is breaking down the highly intellectual ideas coming out of academia down to the ground level and having these studied solutions manifest into reality.
Q
Looking ahead, what do you think will be the one thing you will have been most proud of achieving as county planner in the next year? How about in 5 years?
Bringing people together. We live in an age of isolation with multiple isolation devices contributing to the death of community. In five years I hope that we have more people active in the County and that we have plans in place to help guide us for years to come.
Q
Is there an achievement or contribution that you are most proud of?
I organized a big brother and sister group in my senior year to connect high schoolers with the children in the elementary school who needed someone to work with or just talk to and play games with. The program no longer exists but I hope to see if it can be restarted when things become less busy for me.
Q
What should Shenandoah County residents know about your job as county planner?
That I work for you, and that we cannot envision a future without all of us working together for a better future for all of us.
Q
Is there anything else you would like to share or want folks to know?
That I work for you and I want to hear from you. Email me or call me, or even stop in to catch up. As I said, I love talking and hearing stories, and I think our future will be better if everyone works together. You can reach me at THinkle@shenandoahcountyva.us or 540-459-6204.